OH. EM. GEE!
Could we BE anymore excited right now!? (*she says in her best Chandler Bing voice*)
Why are we so excited? We are glad you asked! Its because we finally get to tell you about:
STUDIO V by The Brand Gals
STUDIO V by The Brand Gals is a video production studio for YouTubers, bloggers, and creatives of all sorts. Nestled in the heart of Burbank, SV is a beautiful and flexible space for video recording complete with pro audio equipment, camera gear, and all of our favorite props to make your sets your own.
The best part? Studio V is available to everyone! Most of the video recording facilities in LA are either actual motion picture studios, makeshift, or only available if you qualify with a certain number of subscribers. SV is for beautiful YOU!
Slated for a soft launch by mid September, SV is proud to offer:
3+ sets
A boom mic
lapel mic
Tri-pod
Lighting equipment
DSLR available to check out
Multiple desk options including white, wood, black, and grey
All of our favorite props from our Brand Gals photo shoots and Snap. Workshop for styling your set.
ADR and other post production add-ons to take your video quality to the next level of professionalism.
There will definitely be more to add to this list as we grow and expand but for now, unless noted, this is all included in the cost of the rental. Yeas!
Because we are still (literally) under construction at the moment and therefore don't have any pretty pictures to share just yet, we wanted to show you the mood board and a taste of the branding for this amazing creative space: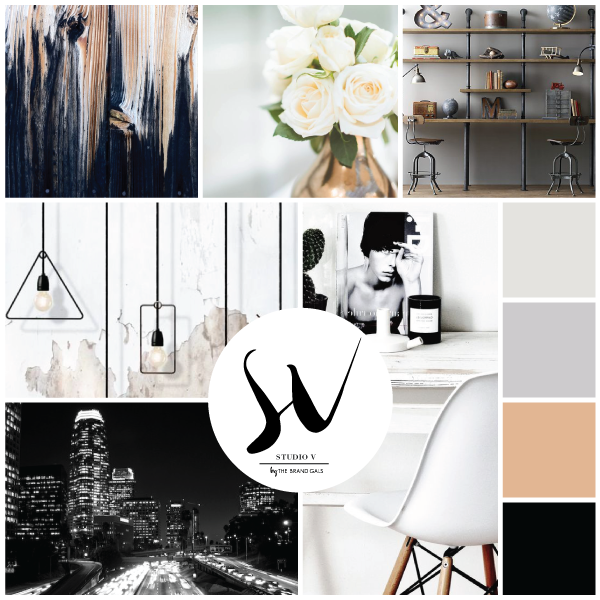 HERE'S THE BEST PART
We are PRE-BOOKING a few select spots at a 50% discount.
Yep, you heard it right! Our room will normally be available for rent at
$60/hour (2-hour minimum)
$200 4-hour block
BUT, for the FIRST 4 PEOPLE who contact us and book, we are offering $20/hour for up to 5 hours of studio time. Ready to roll in the the most beautiful studio in town? Us too! Simply click the button below and indicate "Studio V" on the contact form and a member of our team will be in touch to give you all the details, answer any questions and assist you with your reservation.