Our unique all-inclusive approach means you have a Branding Director to guide your process and help you seamlessly bring your big vision to life!
Which means that trying to brand yourself solo can feel a lot less like a branding process and a lot more like an identity crisis. From countless color palettes and logo concepts to dissecting the difference between a sans and a serif, the decisions are endless and can feel overwhelming when you're going it alone.
Meet YourBRANDING DIRECTOR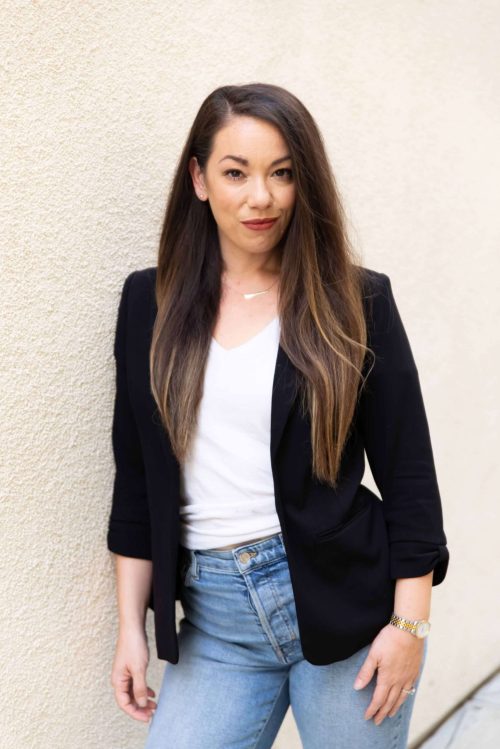 I believe that truly great branding is about creating an authentic connection. Its that split second feeling you get when you discover a new brand that says, "Ah! This is for me!". 
But, that magical moment doesn't just happen by accident or only work for some people and not for others. It comes as a result of being crystal clear about the WHO, the WHAT and the HOW of your vision. WHO you are helping, WHAT it is you do for them and HOW the work you do is the solution they are searching for (or never knew they needed!).
I can't wait to hear about your big vision and to get to work together crafting your brand's story and cultivating the genuine connection you know is possible.

PERSONALITY:
Meyers Briggs: INFJ Enneagram: 4w5 HTF: The Talent

FAMILY
My husband is my partner in all things -especially raising our son

BEAUTY
From websites to runways, I adore beauty in all its forms.

COFFEE
I both show and receive love in the form of a fresh cup!

STAYING HOME
My introvert mantra: cancelled plans are the best plans.

ASTROLOGY
My Venus/Mercury conjunction in Leo is my favorite chart aspect
We believe in the Cinderella approach to choosing your branding team: the shoe must fit!
Here are a few key things we do differently to help you determine if the Brand Gals is the right fit for you.

creative direction
Working with one team from start to brand avoids many of the inevitable communication pitfalls that come with coordinating a small army of creative professionals.

live design
We ended endless revisions! Whether in person or via screen-share, we do all of our design live with our clients so that we can create and edit together in real time.

all-inclusive
Stop searching for your creative team and check all your branding boxes in one place! Our all-inclusive approach delivers a splendid and speedy end result.

website training
We believe that you should be empowered to use your website, make changes and ultimately grow with it! We will show you where and how to keep your site up to date.
The Brand Gals is a boutique branding company that takes a big agency approach to branding.  
Founded by Kelsey Borlan, The Brand Gals began as a brand photography company in 2012. The concept quickly evolved into a full service branding agency within the first couple of years as the need to bring together the worlds of brand development and visual brand communication became evident. 
Today, The Brand Gals specializes in taking an all-inclusive approach to the branding process with big agency-like wrap around services such as brand development, website design, brand photography and video production.  
ABOUT KELSEY
Kelsey's extensive background in visual communication began over 20 years ago when she took her first photography class in 8th grade. By her sophomore year in high school, Kelsey was being hired regularly as a wedding and portrait photographer near her home in San Diego, CA. Kelsey also has a Bachelor's Degree in Communication Studies from Biola University. 
In addition to The Brand Gals, Kelsey and her life/business partner, Robert also own a music library, and a television and film Production company, Creative Studios LA, where they develop and produce original content such as Laugh After Dark, the stand up comedy TV show on Amazon Prime Video.
We have a world-class cohort of creative females we work with. Based on the unique needs of your project, we will assemble the perfect team!